Community News
Laurel Awards
Community Support
Relationships and Community are two of Duncan Craig's cornerstone values. We believe that these values are integral to why we have been able to continuously provide legal services to Albertans over the past 120 years. We are proud to provide annual support to dozens of charitable organizations, scholarships, school groups and fundraising initiatives.
Created as part of our 100th anniversary celebrations, the Duncan Craig Laurel Awards is held each year to recognize and provide financial awards to innovative non profit organizations. While normally there are three winners selected, 2012 saw the introduction of a staff choice award. This award winner is selected by a vote of our staff for the organization or program that they would most like to support.
One of our initiatives is to give each staff member a paid half day of work to volunteer at an organization of their choice. You can see some pictures of their activities on the side. Most recently, we have created the Duncan Craig Community Fund through the Edmonton Community Foundation. Please take a moment to look around and do not hesitate to contact us if you feel we might be able to support your organization in some fashion.
Duncan Craig Volunteers at Meals on Wheels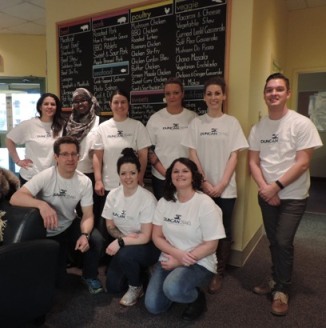 This morning, two lawyers and seven staff members volunteered at Edmonton Meals on Wheels. We chopped, sliced, and assembled meals for our community. Edmonton Meals on Wheels is a local non-profit and registered charitable organization that provides home-delivered meal and food services to a diverse mix of people. On any given day they need up to 45 volunteers to work in the kitchen. If you can help out visit the link below.

Recognizing the Innovation & Creativity of Non Profit Organizations


To celebrate 100 years of continuous legal practice, Duncan Craig LLP developed the Laurel Awards in 1994. The laurel wreath has been a symbol of high honour for more than two thousand years. The history of the laurel is traced back to the early Greeks and Romans, who bestowed wreaths upon community leaders, scholars and athletes who had excelled in their endeavours. In keeping with this tradition, Duncan Craig LLP established the Laurel Awards to honour organizations that further their objectives through exceptional creativity and innovation. Gold, silver and bronze awards are presented each year with honorariums of $5,000, $3,000 and $2,000 respectively.
In addition to these three awards, the Staff Choice Award is given to the organization selected by Duncan Craig LLP staff as their favourite. The winner is presented with an honorarium of $1,000. Last year we introduced an Audience Choice Award which is voted on during the luncheon. The winner is presented with an honorarium of $500. Duncan Craig LLP's approach to the practice of law is both proactive and passionate, as we work to honour our commitment to bring law to life in the community.
The keynote speaker this year, Dr. David Turpin, President and Vice Chancellor of the University of Alberta, presented the Gold Laurel Award, Speaker of the House, Robert E. Wanner presented the Silver Laurel Award and City Councillor Dave Loken presented the Bronze Laurel Award.


2017 Winners

| | | |
| --- | --- | --- |
| | GOLD | Little Warriors Little Warriors Prevent It! Taking Action to Stop Child Sexual Abuse Workshop |
| | | In 2012, Little Warriors partnered with researchers at the University of Alberta to begin developing our very own Canadian prevention workshop called Prevent It! Taking Action to Stop Child Sexual Abuse. This program was piloted in the fall of 2014 and launched to the public in the spring of 2015. Delivered by trained volunteer facilitators, Little Warriors offers this free workshop to adult participants in the Edmonton area and throughout Alberta and Canada. Our aim is to educate adults to learn to prevent the horrific crime of child sexual abuse from happening. Each participant receives a comprehensive workbook and certificate of attendance. Little Warriors works hard to fundraise to be able to continue to offer this workshop for free so that finances are not a barrier to receiving this knowledge to protect children. |
| | SILVER | DiscoverE DiscoverE Workshops, Clubs, Camps and Special Events |
| | | |
| | BRONZE | Cultural Connections Institute - The Learning Exchange Basic English Program (BEL program) - ESL in the Community |
| | | |
| | STAFF CHOICE | Valley Zoo Development Society Urban Farm; Nature's Wild Backyard |
| | | |
| | AUDIENCE CHOICE | Stollery Children's Hospital Foundation Stollery Superstars Program |
| | | |
Below are some of the organizations we have been proud to support over the past year. Often these organizations are also supported by the efforts of lawyer or staff board members or volunteers. Some of these are organizations that are working to find cures or solutions to problems that have affected the lives of our people. We recognize that there are thousands of organizations doing amazing things that positively affect Alberta's lives. If you are interested in being considered for support by Duncan Craig, please do not hesitate to contact our Community Relations department to receive more information about how to apply to our Laurel Awards.
630 CHED Santas Anonymous
Alberta Cancer Foundation
Alberta Lawyers' Assistance Society
Alzheimer Society of Alberta and NWT
Barrhead Animal Rescue Society
Boys & Girls Club Big Brothers Big Sisters
Brain Care Centre
Canadian Breast Cancer Foundation
Canadian Red Cross
CASA Foundation
Crohn's and Colitis Canada
Diabetes Canada
Drayton Valley Community Foundation
Ed Stelmach Community Foundation
Edmonton Columbian Choirs
Edmonton Community Legal Centre
Edmonton Firefighter's Burn Treatment Society
Edmonton Folk Music Festival Society
Edmonton Humane Society
Edmonton Meals on Wheels
Edmonton's Food Bank
Eleanor Pickup Arts Centre
Heart & Stroke Foundation
Hope Mission
Humane Animal Rescue Team (HART)
Infinite WOOFS Animal Rescue Society
Kids Cancer Care Foundation of Alberta
Kids up Front
Kids with Cancer Society
Little Warriors
Mazankowski Alberta Heart Institute
MS Society of Canada
Mustard Seed Edmonton
PAWS for Life Foundation
River Valley Alliance
Ronald McDonald House Charities Northern Alberta
Salvation Army
Second Chance Animal Rescue Society (SCARS)
Shadow Theatre
STARS Air Ambulance
Stephen's Backpacks Society
Stollery Children's Hospital Foundation
University of Alberta Community Service Award
WECAN Food Basket Society
Westend Seniors Activity Centre
WIN House
Youth Empowerment and Support Services
Zoe's Animal Rescue
There are currently no Awards available at this time.
There is currently no news available at this time.
Duncan Craig in the Community
Pat Feehan
Chair, Community Giving Committee